---
TYNE BUILT SHIPS
A history of Tyne shipbuilders and the ships that they built
Above: Select the required shipbuilder by using initial letter of the surname eg: Armstrong, Palmer or Readhead.
KEY BELOW: D / H / P (D means basic dimensions are shown; H means a history is given; P means one or more photographs are available)

Shipbuilder: Palmers Hebburn Co Ltd, Hebburn (1934 - 1973)
The Palmers Hebburn Co Ltd was a ship repair and dry dock facility, however during the Second World War it also built 3 Floating Dry Docks for the Admiralty.
The origin of the yard goes back to Robert Stephenson & Co which had built a graving dock at its Hebburn yard. This yard was aquired by Palmer's Shipbuilding & Iron Co in 1912 and became a major shipbuilding centre until its closure in 1931. The rest of the Palmer's empire collapsed in 1933 and was sold to National Shipbuilders Securities Ltd, who closed down the yards and desroyed the shipbuilding facilities.
Vickers-Armstrong Ltd aquired the Hebburn Yard with its graving dock in 1934 and created Palmers Hebburn Co Ltd, a shiprepairing company. The company prospered and continued to trade as a repair and conversion yard throughout the wartime period and also built parts of ships for other shipbuilders. It also built 3 Admiralty Floating Drydocks, 6 salvage vessels and the major parts of 5 floating cranes on its own account.
A repair yard with a single dry dock was at a distinct commercial disadvantage, so in 1960 an additional dock which was wider, deeper and longer than the original was begun. When completed in 1962 the dock was the largest on the North East coast and one of the largest in the UK.
In 1973 Vickers-Armstrongs sold the facility to Swan Hunter Shipbuilders, who developed it as the Hebburn Dock Shipbuilding Yard. Tyne Tees Dockyard Ltd acquired the yard from the receivers of Swan Hunter in 1994 and then sold it on to Cammell Laird in 1995. Cammell Laird went into receivership in 2001 and the A & P Group aquired the yard from the receivers.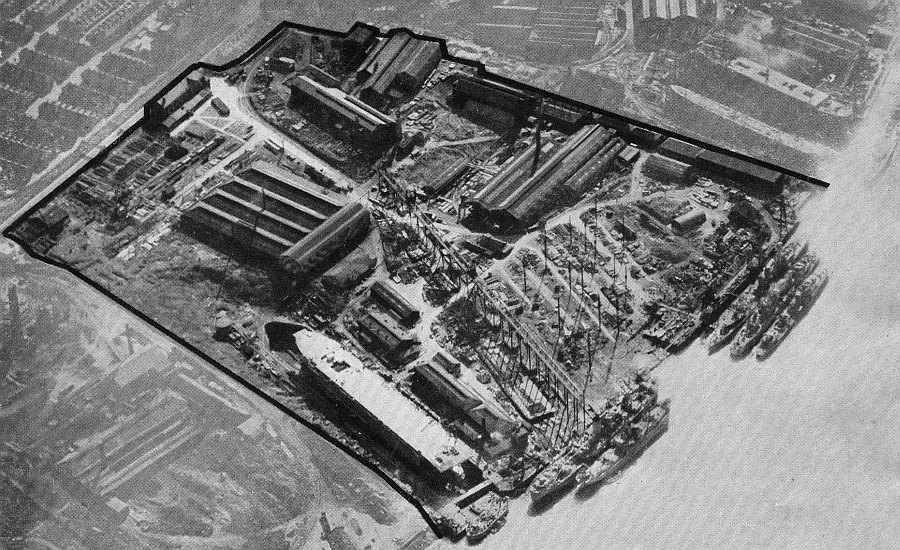 A war time photo of Palmers Hebburn with HMS ARGUS in dry dock. Photo courtesy of Kevin Blair