---
TYNE BUILT SHIPS
A history of Tyne shipbuilders and the ships that they built
Above: Select the required shipbuilder by using initial letter of the surname eg: Armstrong, Palmer or Readhead.
KEY BELOW: D / H / P (D means basic dimensions are shown; H means a history is given; P means one or more photographs are available)



Shipbuilder: Northumberland Shipbuilding Co Ltd, Howdon
Shipbuilder: Northumberland Shipbuilding Co (1927) Ltd, Howdon
A shipyard was laid out at Howdon by HS Edwards and Sons in 1883. Subsequent to Edwards' death in 1898, the yard was acquired by Rowland Hodge, previously yard manager for CS Swan and Hunter at their Wallsend yard. Hodge transferred the ownership of the Howdon Yard to the Northumberland Shipbuilding Co for £6,000, with Sir Christopher Furness, a West Hartlepool shipowner, taking a controlling interest in the company. In 1918 the yard was sold to new owners led by the Belfast company Workman, Clark and Co. for £835,000. They used the Northumberland company to create the largest shipbuilding combine in Britain. In 1926 the yard closed, but the following year re-opened as The Northumberland Shipbuilding Co (1927) Ltd, with 7 berths and capacity to build ships up to 600 feet in length. The last ship was launched in 1930, the 343rd under the Northumberland name. The yard was sold to National Shipbuilders Security Ltd and later dismantled.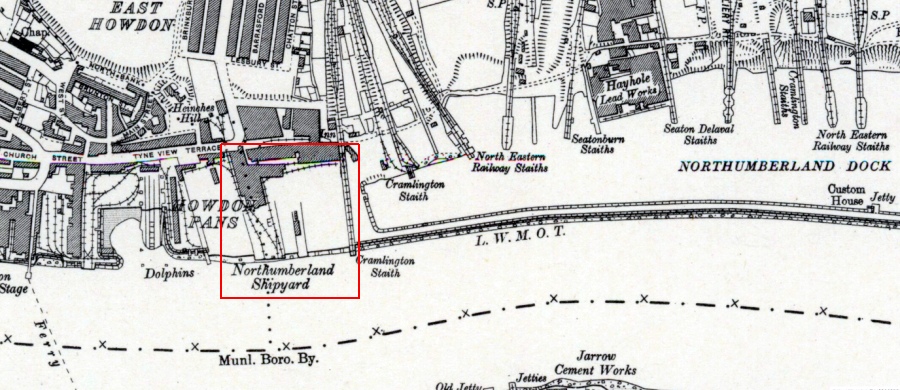 The above map is from the Ordinance Survey of 1921 and shows the yard in relation to Northumberland Dock.


The following ships were built at the Northumberland Shipbuilding Company Ltd.