Smith's Dock Company can trace their origins to T & W Smith, who were building wooden ships from 1810 at St Peter's in Newcastle. In 1814 they also leased Laing's Dock at North Shields and in 1839 started building ships at Limekiln Shore near the Coble Dene at the west end of North Shields. This yard featured covered shipbuilding berths with the roof covered in wood and glass panels on the sides. This gave better building conditions for the ships and also the men. When Laing's Dock became too small for their needs they constructed another dock next to their Limekilns Shore yard in 1850.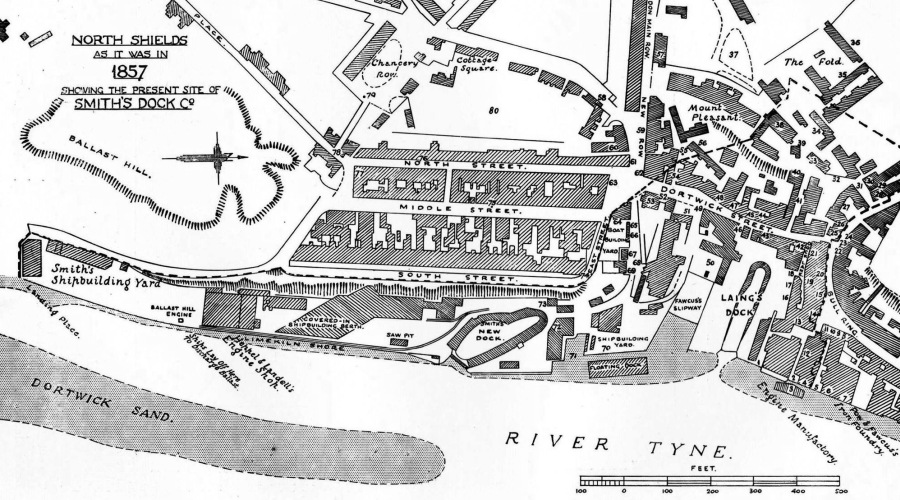 The above map from 1857 shows the location of the yard at North Shields. Map is courtesy of John Bage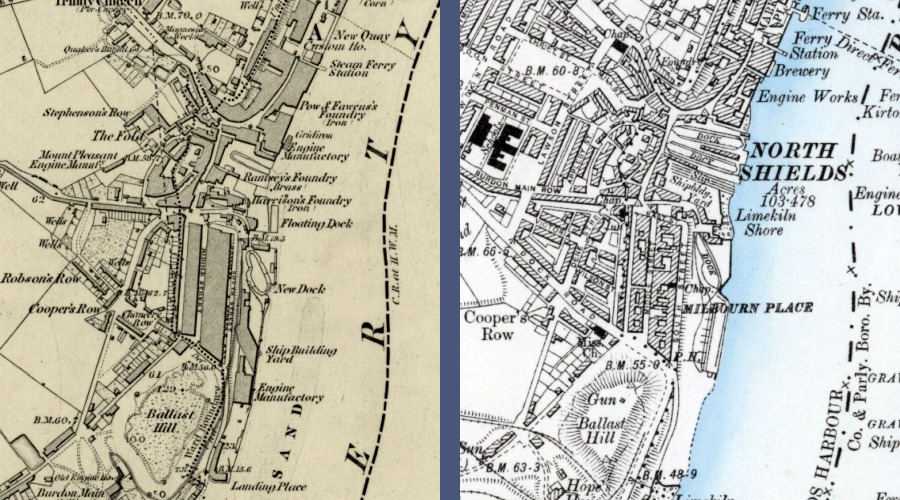 Above maps, dated 1858 (L) and 1894 (R), are copyright of the Ordnance Survey

Shiprepair and shipbuilding went hand in hand, but after 1890 the yard concentrated on ship repair only, apart from building their own floating dock. In 1891 they announced a significant expansion in their shiprepair business and changed the company name to Smith's Dock Co Ltd to reflect this. The above maps show the differences brought about by this shift of emphasis. The covered berths at the Limekiln shore have been replaced by the large submersible pontoon dock and Edwards Brothers have a shipbuilding yard and two dry docks to the north. Smith's Dock had relinquished the lease on Laing's Dock, which had then been purchased by Edwards Brothers in 1883. Edwards Brothers had then rebuilt and extended Laing's Dock and built another of much the same size on it's northern edge. The first dock was opened in 1886 and the second in 1890. On 1st September 1899, Smith's Dock Co was amalgamated with HS Edwards and Edwards Brothers under the name of Smith's Dock Co Ltd. The amalgamation with Edwards Brothers gave Smith's Dock a continuous presence along the Limekiln Shore with a pontoon dock and 3 dry docks and a shipyard again. HS Edwards had the High Docks at the west end of South Shields.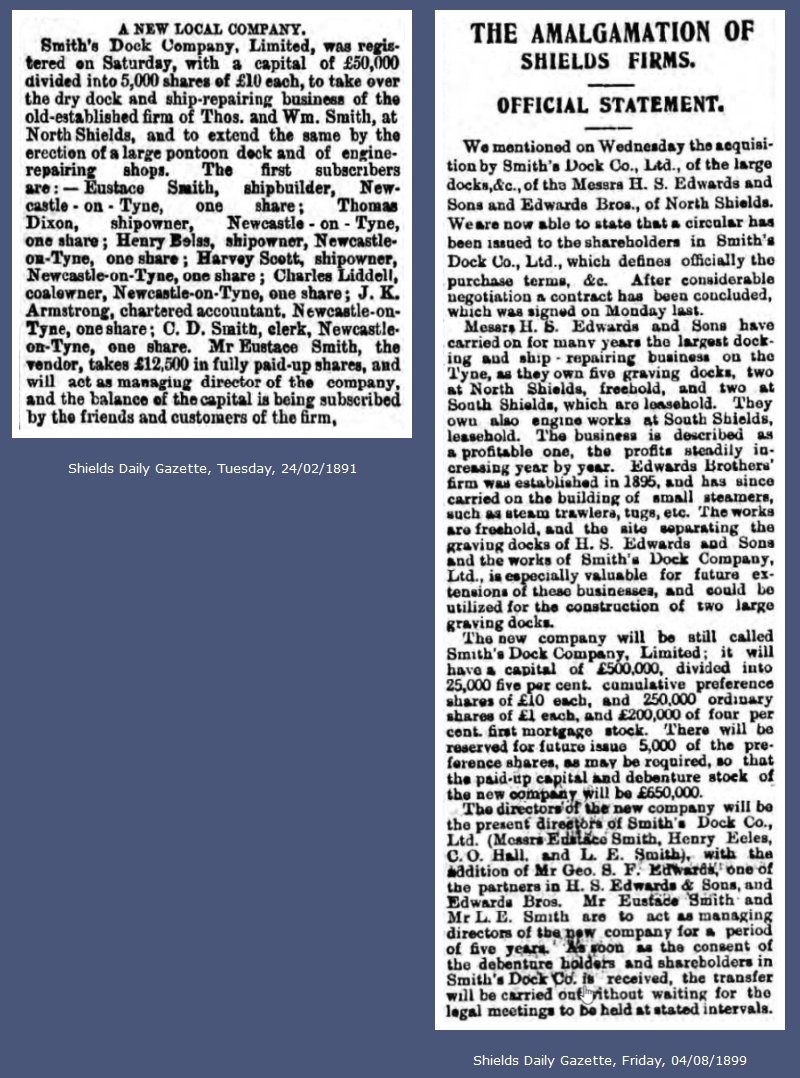 In 1907/8 Smith's Dock developed a shipyard, associated drydocks and repair facilities on a completely new site fronting the River Tees at South Bank, downstream from Middlesbrough. In 1910 shipbuilding ceased at the North Shields site. With the repair facilities on the Tyne & Tees combined, Smith's Dock were the largest shiprepairers in the UK and probably the World. In 1924 the High Docks passed into the tenancy of John Readhead & Sons Ltd, and into their ownership in 1938.

On the 01/10/1929 a new No 5 dock was opened at North Shields. This dock was 500ft long and 68ft wide at the entrance.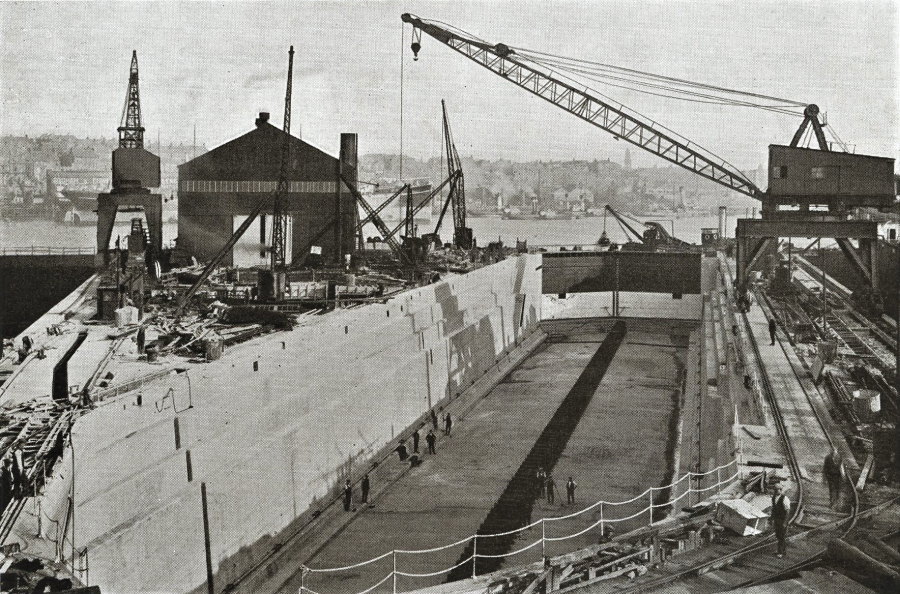 Above photo of No 5 Dock is courtesy of John Bage

In the following photo the three almost parallel docks at right angles to the river are numbered 6, 5 & 4 from the left.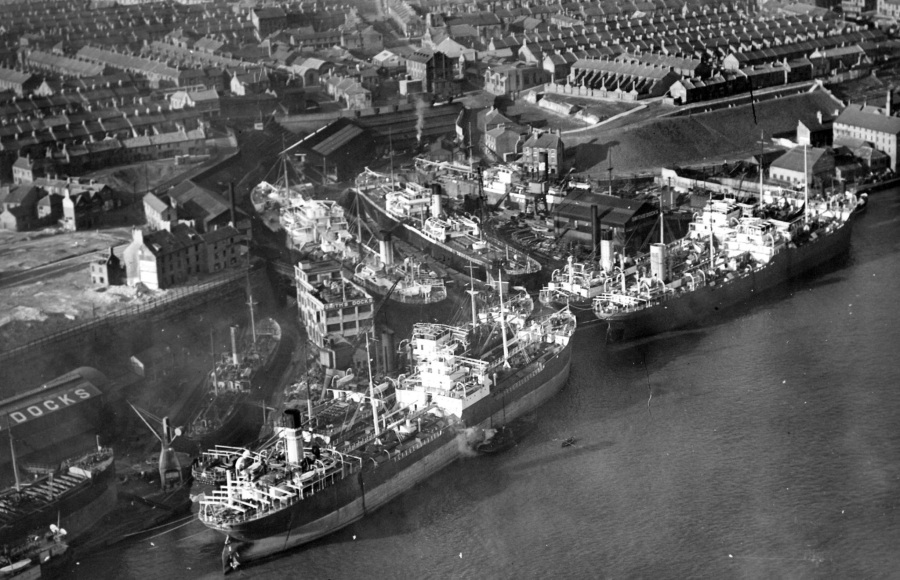 Above photo, dated 14/02/1938, is courtesy of Terry Summerson. CLICK to enlarge/BACK to return

Note in the bottom left corner of the photo the bows of a ship in a floating dry dock or pontoon. This was Smiths Pontoon No 1 and was parallel with the river frontage and in line with Smith's other pontoon, Pontoon No 2, further upstream. Both pontoons are identified in the following map from 1913.

Above map, dated 1913, is copyright of the Ordnance Survey

Smith's Pontoon No 1 had a lifting power of 3,200 tons and Pontoon No 2 could lift 6,500 tons. Pontoon No 2 could lift a ship out of the water in 30 minutes. Pontoon No 1, which had been constructed by the company themselves in 1892, docked its final ship on 20/09/1938 and was taken to Gateshead on 16/10/1938 to be broken up. See HERE for details. Pontoon No 2 had been constructed by CS Swan & Hunter Ltd in 1896 and was broken up at Blyth in 1951. See HERE for details.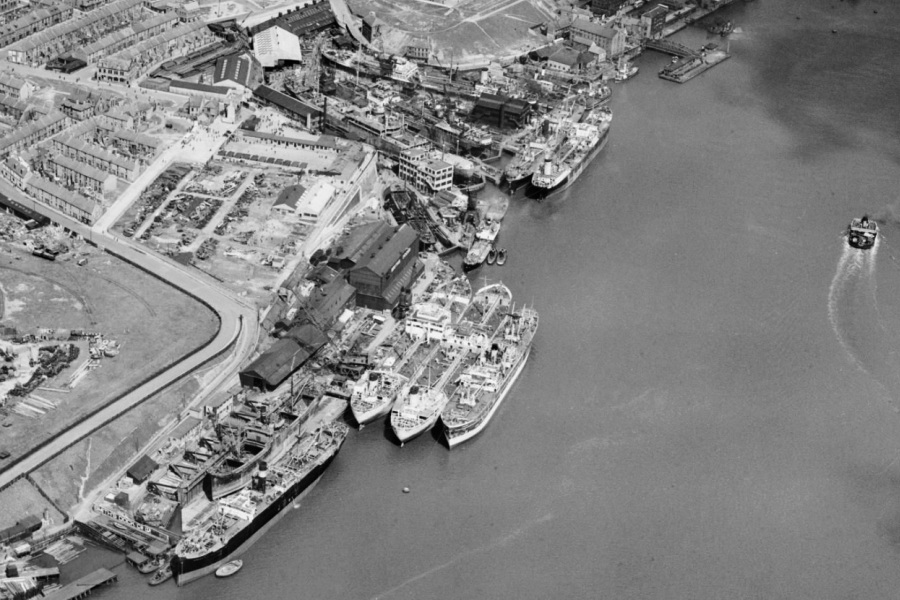 Above photo, dated 1947, is copyright of Britain from Above. CLICK to enlarge/BACK to return

In the photo above note the following, from bottom left to top right. A ship alongside, another on the pontoon inside, 3 ships alongside, ship in dock and one alongside, 3 ships in dock and 2 alongside, two funnels possibly tugs in dock and one outside. Finally a single tug and the North Shields ferry landing.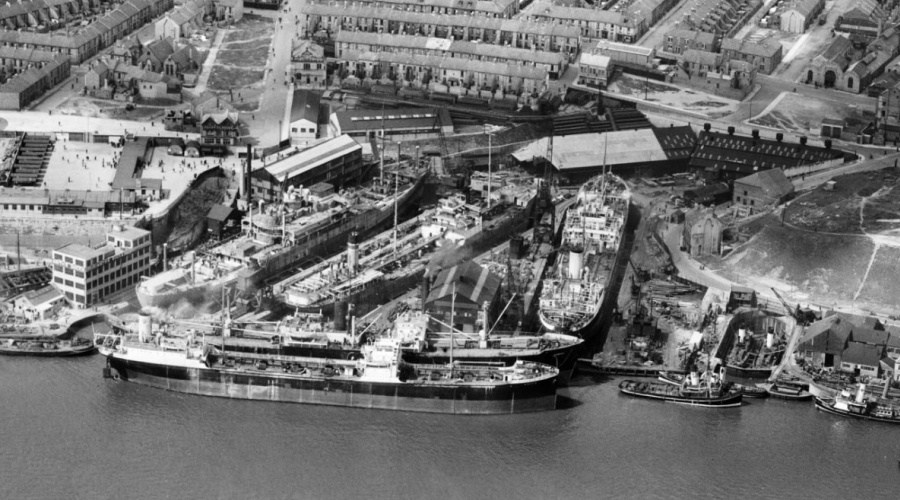 Above photo, dated 1947, is copyright of Britain from Above

The two tugs are in Baird's Dock (bottom right of above photo) which with its associated quayside was constructed in 1913 for Baird Bros and became part of Smiths Dock on 1st April 1939.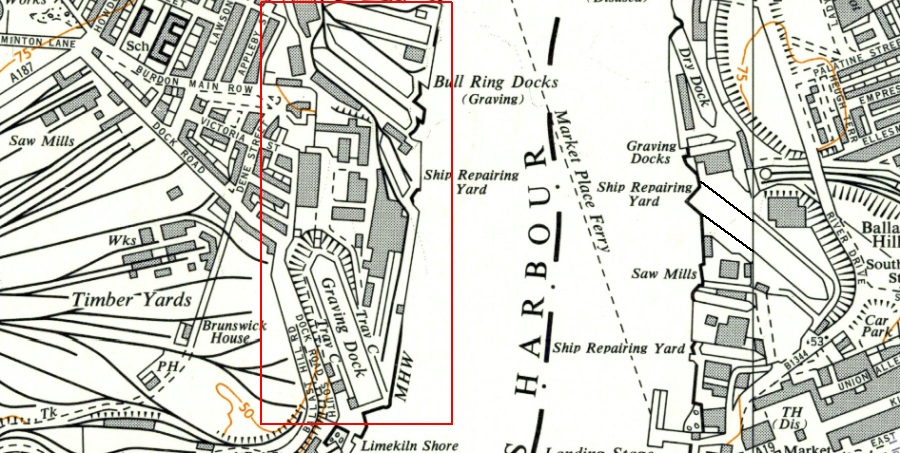 Above map, dated 1960, is copyright of the Ordnance Survey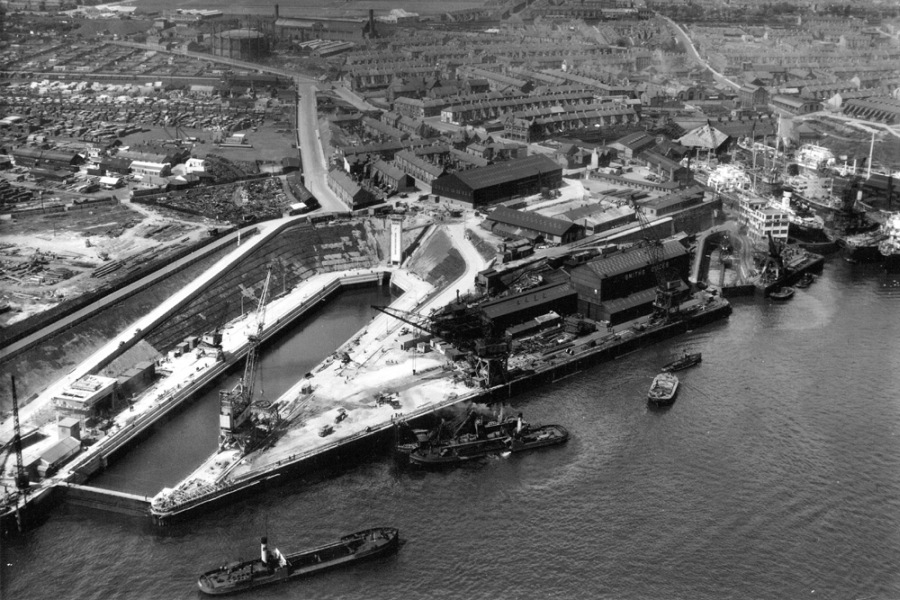 Above photo showing the new dock in 1954 is courtesy of Terry Summerson

In 1954 a new dock at the Smith's Dock complex in North Shields was opened by James Thomas the First Lord of the Admiralty. It was 216.1m (709ft) long, 28.9m wide and 8.2m deep, making it the largest dock on the site.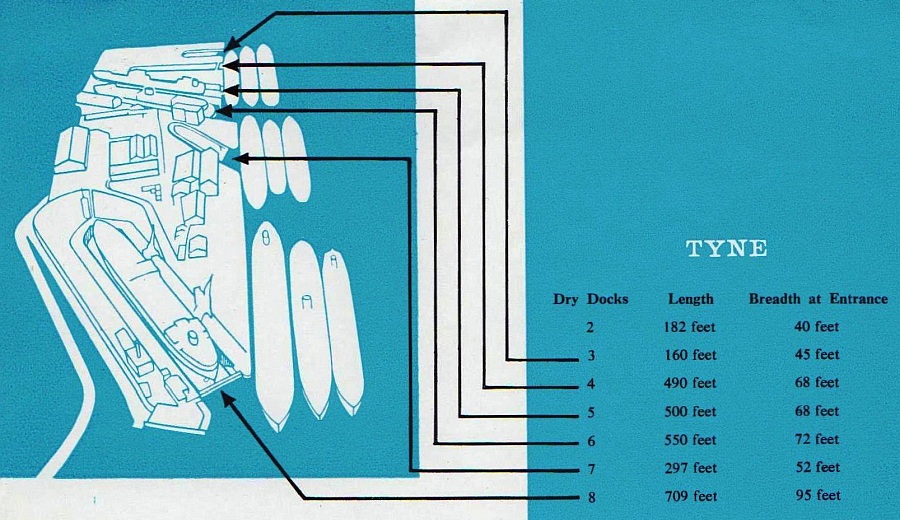 Above image, showing the identities and sizes of the docks at North Shields, is courtesy of John Bage

In 1955 Smith's Dock acquired the assets of Shields Engineering and Dry Docks Co near the North Shields Fish Quay and known locally as the Haddock Shop. The site included a 182ft x 40ft dry dock. The two ship-repair organisations were merged.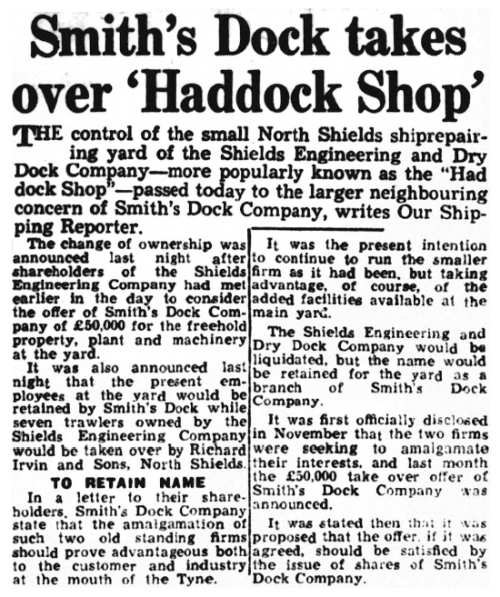 Shields Daily News, Thursday, 13/01/1955

In 1966 Swan Hunter & Wigham Richardson Ltd, merged with Smith's Dock Co Ltd (both Tyne and Tees based yards) and the name of the new company became Associated Shipbuilders Ltd, later becoming Swan Hunter Group Ltd. In January 1968, Swan Hunter & Tyne Shipbuilders Ltd was incorporated and and all shipbuilding interests on the Tyne were transferred to it. This included the other major shipbuilders of Hawthorn Leslie, Readhead and Vickers Armstrongs. This amalgamation was a direct result of the recommendations of the Geddes Report on the future of UK shipbuilding. Swan Hunter & Tyne Shipbuilders Ltd was soon shortened to Swan Hunter Shipbuilders Ltd and was a subsidiary of Swan Hunter Group. The Swan Hunter Group, prior to nationalisation of the industry, was a holding company with subsidiaries in shipbuilding, ship repairing, engineering and civil engineering.

In 1977 Swan Hunter Shipbuilders Ltd was incorporated into the nationalised group British Shipbuilders as was Smith's Dock shipbuilders on the Tees but Smith's Dock at North Shields, then known as Smiths Shiprepairers, was not included. Although shiprepairing was generally excluded from the nationalisation process some repair yards were already under government ownership prior to 1977 and some of the nationalised shipyards contained shiprepair elements. Eventually British Shipbuilders ended up grouping their North East repair yards under the Tyne Shiprepair Ltd banner and managed them all collectively and in competition to Smiths Shiprepairers.

In 1988 Smiths Shiprepairers was acquired by A&P Appledore and was merged with former competitor Tyne Shiprepair Ltd to form A&P Appledore (Tyne) Ltd. Closure and site clearance.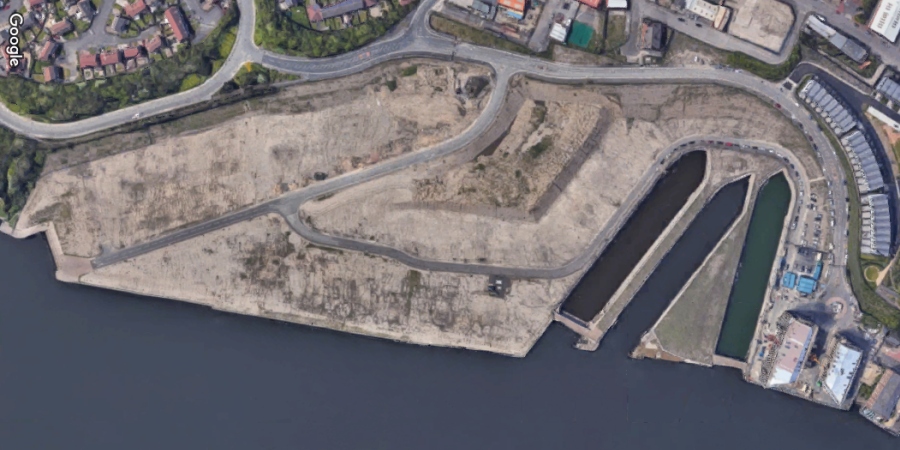 Above map view is dated 2020 and is copyright of Google