---
TYNE BUILT SHIPS
A history of Tyne shipbuilders and the ships that they built
---
Related Industries - Ship Repairers
J Readhead & Sons Ltd, South Shields
A shipyard was present at High Dock from about 1778. In 1818 the yard consisted of "one dry dock, a wooden shipbuilding yard and a fine dwelling house". The High Dock Yard came into the hands of the Edwards family in 1821, and was run by the Edwards family until 1899, under whom a further two graving docks were constructed and the original dock deepened and lengthened.

Above photo, courtesy of John Bage, shows the Edwards High Dock yards in about 1860. CLICK to enlarge/BACK to return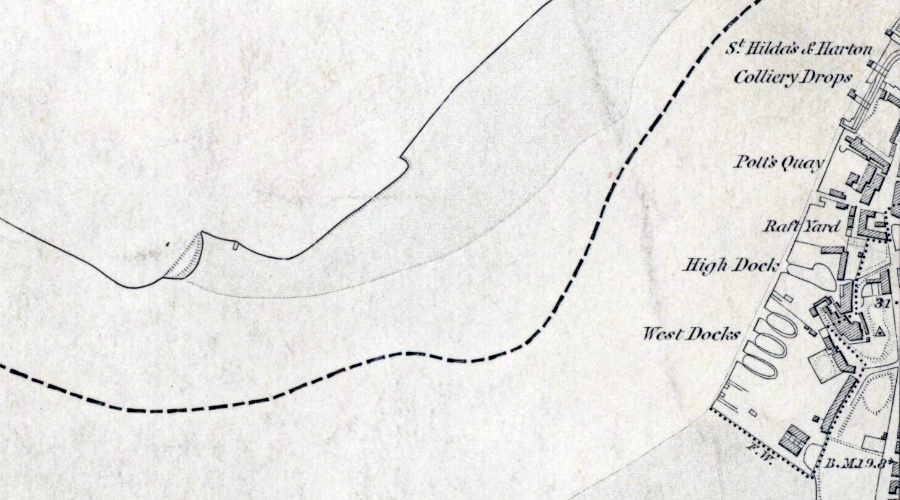 Above map dated 1856 can be compared with the photo (Potts Quay on extreme left). Map is copyright of the Ordnace Survey
With the amalgamation of Smiths and Edwards in 1899, the High Docks became a part of Smiths Dock Co Ltd. In 1924, the yard passed into the tenancy of John Readhead & Sons Ltd, and into their ownership in 1938. Under Readhead the whole site incorporating the West Docks was substantially redeveloped with three of the docks being infilled using waste from the adjacent ballast hills, a timber quay constructed across the river frontage and a fabrication shop constructed on the newly available land. Two new drydocks were built, No 1 Dock was 330 x 48ft and No 2 Dock was 480 x 65ft.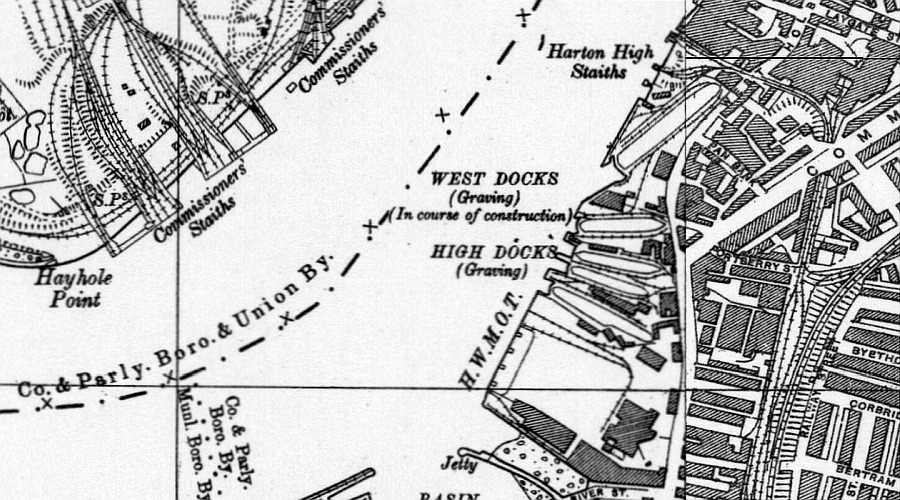 Above map dated 1938 shows the High Docks before being infilled and two larger docks (West Docks) under construction
Map is copyright of the Ordnace Survey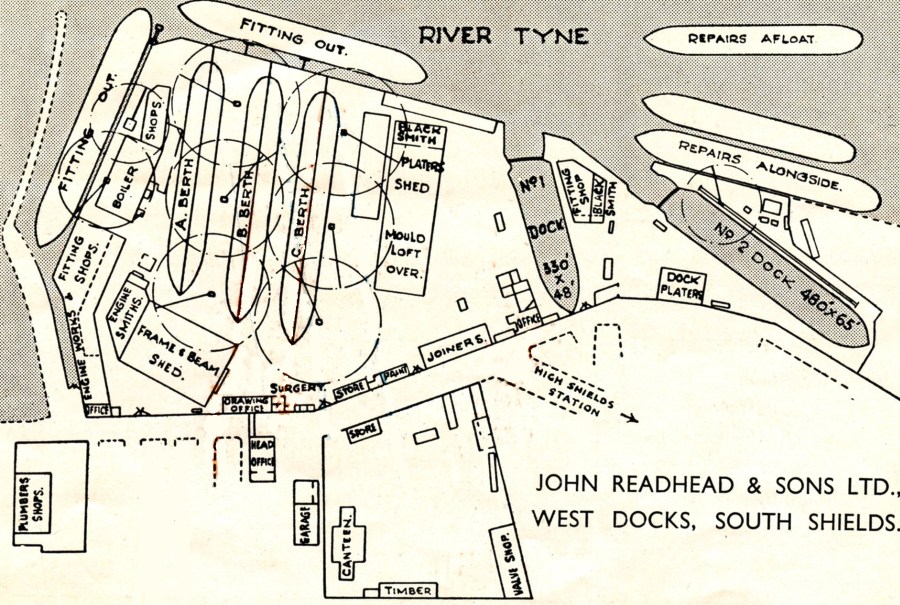 The above yard layout, courtesy of John Bage, shows the West Docks in relation to the expanded shipyard
Click HERE for more photos of the docks and ships using the docks. Use Browser BACK button to return
John Readhead & Sons Ltd was taken over by Swan Hunter Shipbuilders Ltd in 1968 and after nationalisation in 1977 the West Docks were amalgamated with other repair yards by British Shipbuilders Ltd to create Tyne Shiprepair Ltd.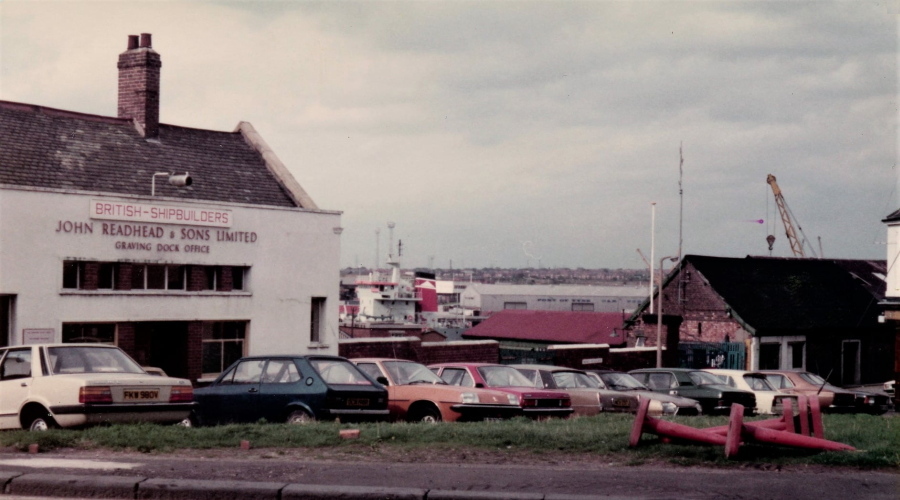 Above photo showing the main offices under British Shipbuilders' ownership is copyright of Malcolm Drummond


In 1985 Tyne Shiprepair Ltd was privatised from British Shipbuilders and soon after Readhead Shiprepairs Ltd was bought by Tynedock Engineering Ltd who owned another dock east of the South Shields ferry landing called the Market Dock. The Market Dock was renamed TDE East and the ex Readhead dock was renamed TDE West. Each yard had two docks.

In February of 1993 TDE acquired the former Middle Docks and renamed them TDE Hill Street and in August of the same year closed their East Dock or Market Dock. The old Readhead shipyard site had been acquired by McNulty Offshore and redeveloped as a mixed repair and construction site for offshore structures and in August 1996 the Norwegian firm Aker purchased a 70% share of the company and also acquired TDE West (the former Readhead Drydocks) and filled in the drydocks. This meant that TDE was then just based at their Hill Street site, the former Middle Docks.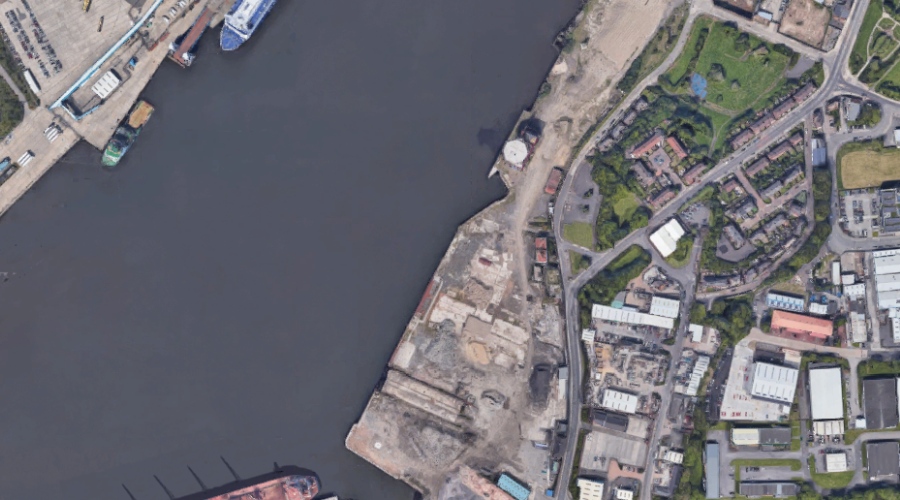 The Readhead site in 2020, the entrance to the larger No 2 Dock can still be seen. The above map is copyright of Google
UNDER CONSTRUCTION
USE BROWSER BACK BUTTON TO RETURN