---
TYNE BUILT SHIPS
A history of Tyne shipbuilders and the ships that they built
---
Related Industries - Ship Repairers
Palmers' Shipbuilding & Iron Co Ltd, Jarrow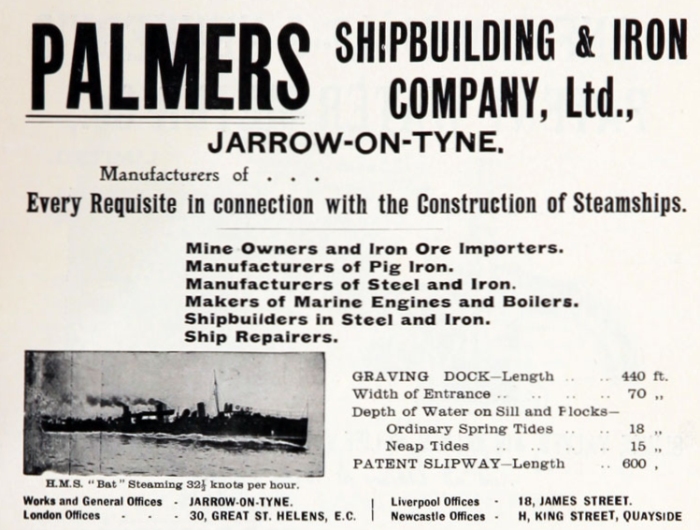 Above advert details the dock & slipway sizes
Palmer Brothers & Co commenced building a graving dock at Jarrow towards the end of 1862 and formally opened it on 23rd of September 1865, having spent &pound50,000 to &pound60,000 in its construction. When completed it was the 3rd largest drydock in the UK at 410ft in length and 53ft width at the bottom. It was step sided to a width of 96ft at the top with an average depth of water of 20ft at high tide.

Above map shows the Palmer dock and slipway in 1895. Map is copyright of the Ordnance Survey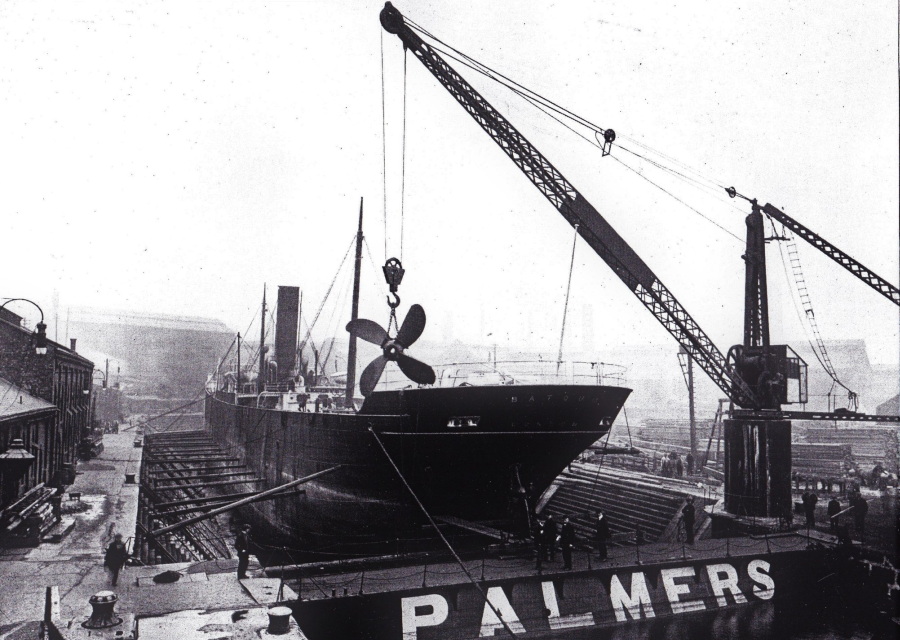 Above photo shows a ship in the dock and the pedestal crane at the dock entrance. Photo is copyright of Tyne and Wear Museums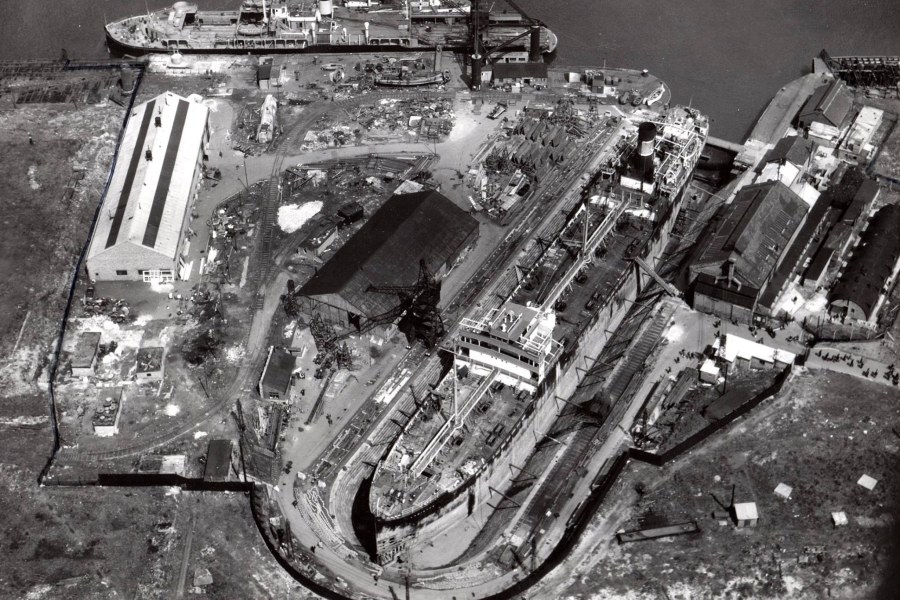 Above photo showing LARISTAN in dock is courtesy of Kevin Blair. CLICK to enlarge/BACK to return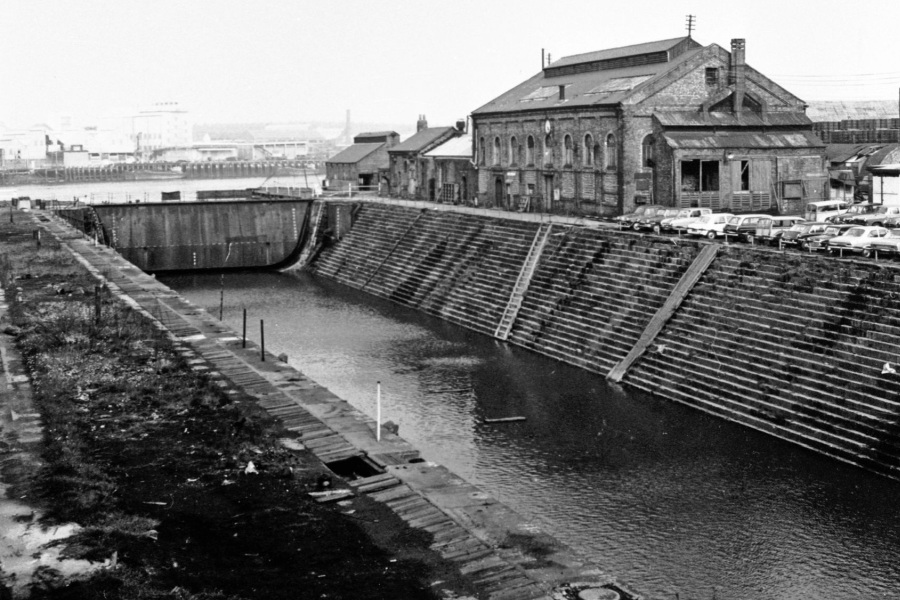 Above photo shows the dock just before closure in the 1960s. Photo is copyright of Tyne and Wear Museums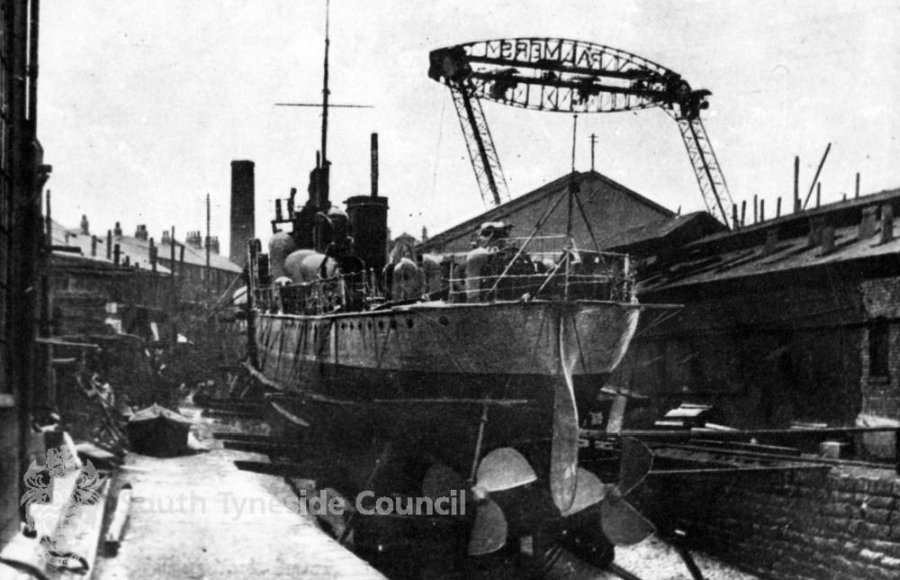 Above photo showing a destroyer on the patent slipway (note rails under vessel) is copyright of South Tyneside Libraries

In 1911 Palmers leased the former Robert Stephenson shipyard at Hebburn, which contained nine building berths and the largest dry dock on the East Coast. This dock was 700ft long, 90ft wide (at the bottom) and 29ft deep at the entrance and is described in more detail in the Robert Stephenson section: HERE. It allowed ships such as CADILLAC to be docked and later repaired.

Above map, approx 1.2 miles wide, shows the relative positions of the Hebburn & Jarrow docks. Copyright of the Ordnance Survey

In 1931 the Palmers Hebburn yard was closed and then in 1933 the rest of the Palmers company closed and the Jarrow site was cleared and then abandoned, with a restriction that the land could not be used for shipbuilding again. However the Palmers Hebburn yard was re-opened in 1934 by Vickers-Armstrongs Ltd as a ship repair yard and still known as Palmers Hebburn. By 1940, with WWII well underway, the Palmers Hebburn works had such a huge demand for extra drydock facilities that they took over that part of the old Jarrow shipbuilding yard that contained the drydock. This dock proved most useful when it was restored in May 1941, especially for the docking of smaller ships such as escort vessels. Palmers Hebburn continued to be busy in the post war years and in 1962 they opened a new drydock capable of docking 100,000 dwt ships and at about this time they also closed the smaller Jarrow yard for good. The yard was then built over and until 2018 the site was occupied by Rohm & Haas, but the entrance of the dock on the river edge could still be seen.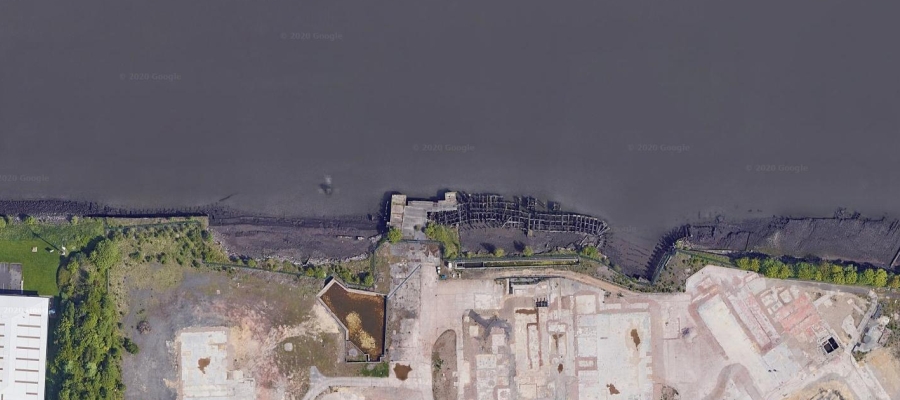 Above photo shows the former entrance to the drydock, to the right of centre, in 2020. Map is copyright of Google
UNDER CONSTRUCTION
USE BROWSER BACK BUTTON TO RETURN