---
TYNE BUILT SHIPS
A history of Tyne shipbuilders and the ships that they built
---
Related Industries - Ship Repairers
Middle Docks & Engineering Co Ltd, South Shields
A 'Mr Smith's Dock' is shown on a 'Plan of the Low part of the Tyne' in the late 1760s. The first mention by name of Middle Dock is from 1772, when the brig True Briton was announced for sale at 'the Middle Dock, South Shields'. In 1774, the yard was described as containing a "large and commodious double dock, a spacious building yard, smiths' shops, warehouses and all other necessary conveniences and appurtenances…". References to 'docks' on the site by 1799 show it had at least two in place by that time. Wood's map of South Shield's of 1827 shows two owners in the Middle Dock Yard, a Mr Stoveld in the northern dock and a Mr Hall in the southern dock. See below map (L).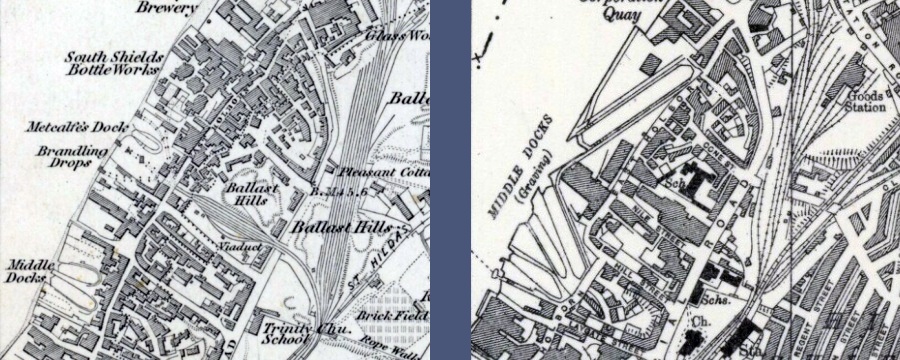 Above map (L) is dated 1855 and above map (R) is dated 1838. Both are copyright of the Ordnance Survey

In the mid-19th century the two docks were joined into one business under Hood, Henderson and Woods who traded as the Middle Dock Co. In 1899 the Middle Dock Co was sold and a new Middle Dock and Engineering Co Ltd was formed. The prinicipal work of the yard was ship repairing. A third graving dock at Middle Dock was opened in 1909 and all the yard's departments were reorganised and extended and new electric cranes installed. A fourth graving-dock was constructed between 1914 and 1917. Construction of this dock, which ran obliquely across the enlarged yard, involved the infilling of the old Metcalfe's Dock and the demolition of much of the yard's structures. At the time, it was the second largest graving dock on the east coast north of the Thames. See above map (R).

After WW1, the two oldest docks in the yard were also extended and the yard considerably upgraded. The yard was employed to full capacity during WWII and the latest dock was extended in 1941 to 640 feet in length. From 1977 the Middle Dock and Engineering Company became a member of British Shipbuilders as part of the Tyne Shiprepair Group Ltd.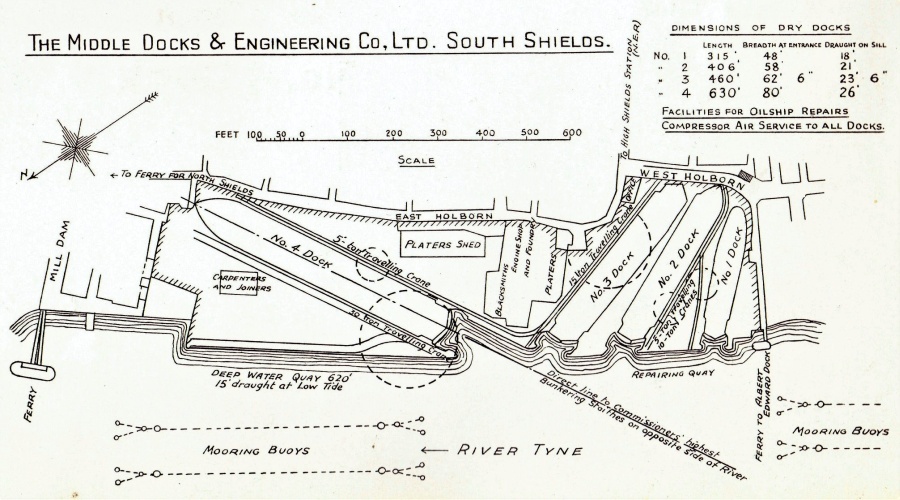 Above plan of the fully developed yard is courtesy of John Bage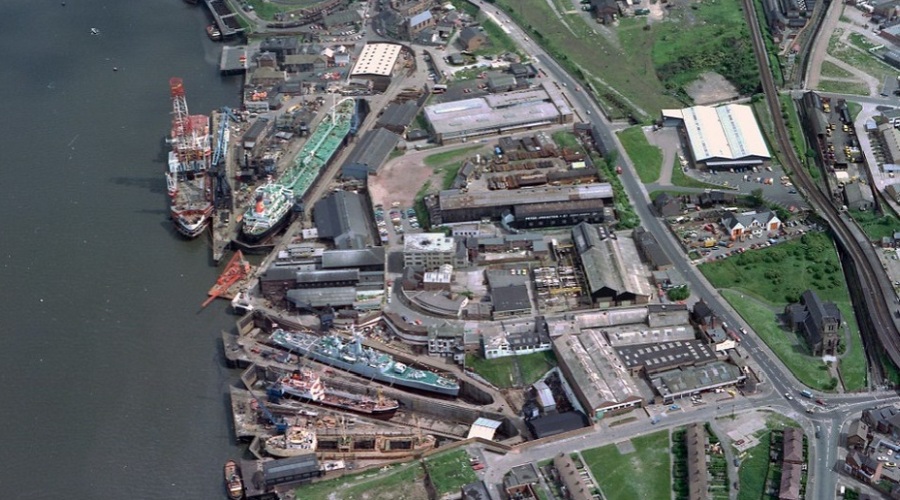 Above photo shows all the docks full in the 1980s. Photo is copyright of Tyne & Wear Museums

In February 1993 Middle Dock was acquired by Tyne Dock Engineering (TDE) and was renamed TDE Hill Street. Then in October 1998 Cammell Laird acquired both TDE Hill Street/Middle Dock at South Shields, renamed Cammell Laird South Shields and the Tyne Tees Dockyard at Hebburn, renamed Cammell Laird Tyneside. Cammell Laird South Shields was closed 31/03/1999 and the site was cleared, except for the office building.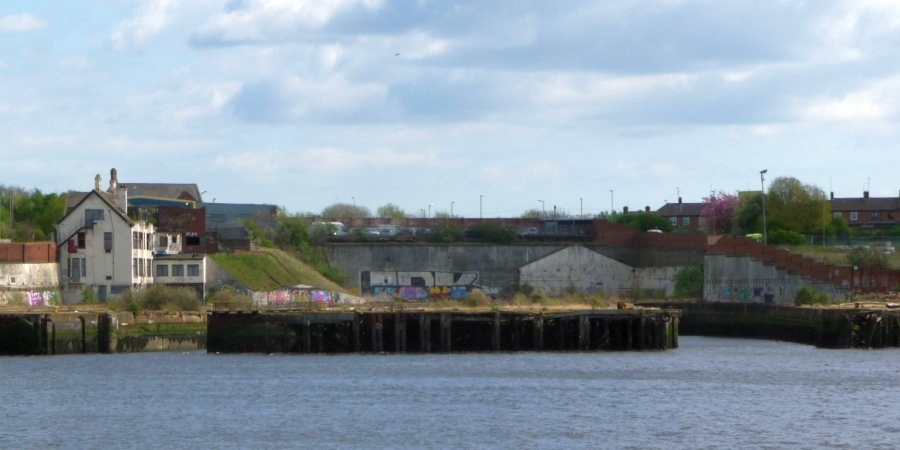 Above photo shows the derelict docks from the north bank of the Tyne. Photo is copyright of the Webmaster
Click HERE for more photos of the docks and ships using the docks. Use Browser BACK button to return
UNDER CONSTRUCTION
USE BROWSER BACK BUTTON TO RETURN