---
TYNE BUILT SHIPS
A history of Tyne shipbuilders and the ships that they built
---
Related Industries - Engine Builders
Parsons Marine Steam Turbine Co Ltd, Wallsend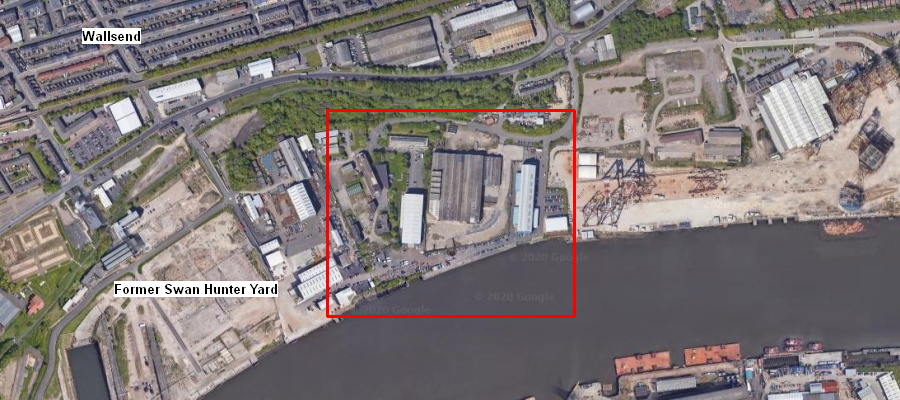 Above map shows the position of Parsons, with Davy Bank in the top right corner. Map is copyright of Google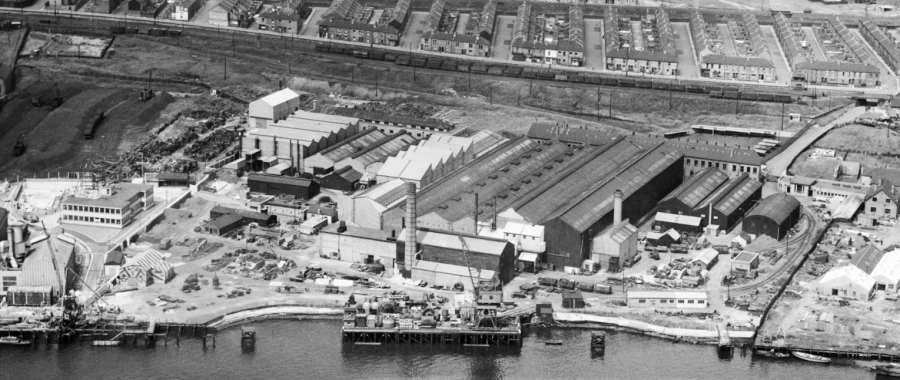 Above image, dated 1947 and with Davy Bank in the top right corner, is copyright of Britain From Above
The company was set up in 1897 by Charles Parsons who developed the steam turbine and demonstrated it so successfully with the TURBINIA at the 1897 Navy Review, held at Spithead, to celebrate Queen Victoria's Diamond Jubilee. The new Turbinia Works of 14 acres was set up on the banks of the Tyne at Wallsend just to the east of the Swan Hunter shipyard. The company not only manufactured turbines but also condensers and gearing, providing a the design and or manufacture of complete steam turbine installations. The first warship contract was for the quadrupal screw destroyer COBRA built speculatively by Armstrong Whitworth in 1898 but eventually purchased by the Admiralty in 1900. Parsons designed turbines were selected for the passenger liners MAURETANIA, LUSITANIA and the battleship DREADNOUGHT.

Other engine builders such as John Brown, Hawthorn Leslie, Wallsend Slipway and Denny took licences from Parsons to manufacture the turbines themselves. These companies would have paid a one off licence fee and also royalties based on the number or power of the turbines produced. The Admiralty used two types of steam turbines for their ships, Parsons and Brown-Curtis. John Brown at Clydebank was already a licencee of Parsons when in 1908 they took out a licence to build the American Curtis impuse turbine and engineered it into the Brown-Curtis type. The Admiralty was keen to have an alternative turbine design to Parsons and the Curtis turbine was lighter, more compact and more economical at lower cruising powers. However due to various legal contracts, Parsons recieved royalties on the turbine installation no matter which design was chosen.

Parsons introduced geared turbines in warships in 1913 and then became a specialist in gearing manufacture, supplying other machinery manufacturers.

Parsons was also the prime contractor for a number of Admiralty destroyers, where they would provide the whole turbine system and the hull was subcontracted to the likes of Hawthorn Leslie or Vickers Armstrong.

In 1944, all of Parsons' Research & Development activities were transferred a new company Parsons & Marine Engineering Turbine Research & Development Association or PAMETRADA, based at a new facility next to the Turbinia Works at Wallsend.
The remaining Parsons manufacturing operations the Marine Steam Turbine Company was acquired by the Richardsons, Westgarth group in 1957 and renamed Parsons Marine Turbine Co Ltd which included gas turbines as well as steam turbines.
By the 1960s the steam turbine had been replaced by the diesel engine in merchant ships and by gas turbines in warships and in 1964 the company was wound up.
UNDER CONSTRUCTION
USE BROWSER BACK BUTTON TO RETURN