---
TYNE BUILT SHIPS
A history of Tyne shipbuilders and the ships that they built
Above: Select the required shipbuilder by using initial letter of the surname eg: Armstrong, Parson or Readhead.
KEY BELOW: D / H / P (D means basic dimensions are shown; H means a history is given; P means one or more photographs are available)



Shipbuilder: Newcastle Shipbuilding Co, Hebburn Quay (1920 - 1921)
In August of 1919 John Crass, Hunter Doeg and Harold Merrylees took over the small slipway & repair yard of Huntley Shipbuilding Co at Hebburn and set up the Newcastle Shipbuilding Co. The company was formed to take advantage of the post World War 1 boom in shipbuilding. It was planned to be a ten berth yard although the initial yard consisted of the three Huntley berths and associated buildings.
In April 1921 the shock news came that a meeting of creditors was arranged & on April 9th the company was wound up. At this time one cargo ship was launched, another cargo ship was close to launching and a cargo ship and three tankers were laid down on new berths. Two vessels were eventually completed by other yards, the third vessel was broken up on the berth in 1925 as were the other laid down vessels.
In Sept 1925 the land, plant & buildings were auctioned off. The site of 18 acres was offered at £5000 but had no bids. Plant & machinery was sold 'piecemeal' at low prices. Today a housing estate & small factory units stand on the site of the yard but at low water the ends of the shipbuilding slipways can still be seen.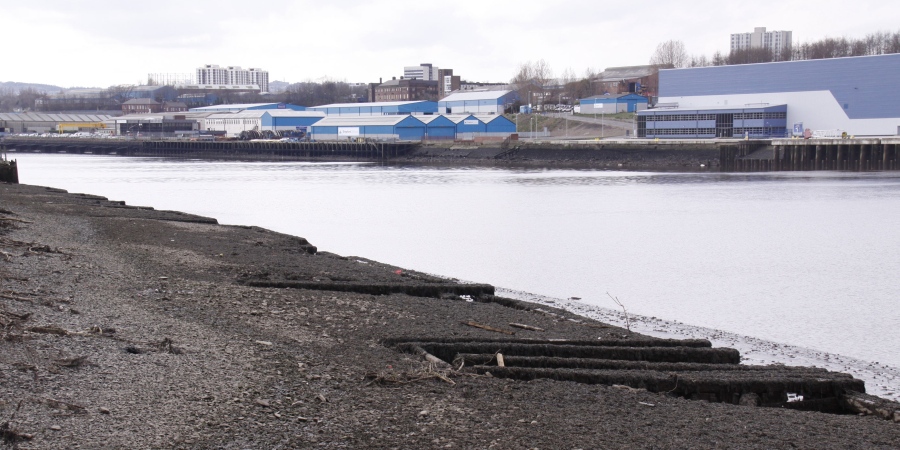 The above photo showing the remains of the Newcastle Shipbuilding Company slipways is copyright of Kevin Blair
| Yd No | Year | Ship Name | D / H / P |
| --- | --- | --- | --- |
| 24 | 1922 | Zabalbide | D / H / P |
| 25 | 1922 | Ravnefjell | D / H / P |
| 26 | | Unknown | |